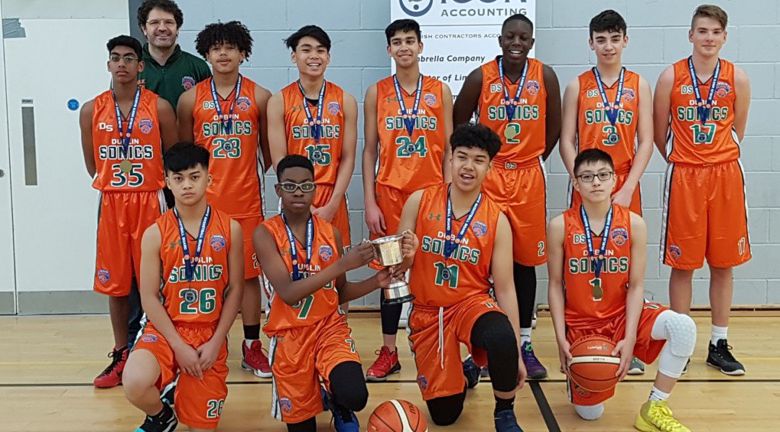 Icon Accounting are proud to support the Dublin Sonics for the past 4 years. This fledgling basketball club has broken barriers in the community and had great success on the basketball courts of Ireland.
Below we interview their General Manager Frank Donohoe about the club and the community.
Who plays for Dublin Sonics?
Sonics welcome all children from age 6. Currently we have 9 teams playing in the Dublin Leagues. Boys U11s, 12s, 13s, 14s, 15s, 16s, 17s. Men's Division 6 and Girls U17s. Our academy caters for boys and girls from age 6. The clubs coaching philosophy is to create team mates first, athletes second and basketball players third.
How important is it to the team to have a range of cultures represented?
The club is situated in the diverse community of Tyrrelstown. Our 186 members were born, or have parents who were born in 29 different nations. It's an inclusive environment were cultural differences are encouraged and respected, however the kids engagement with their peers is never based on sex, colour, religion or nationality, its whether or not you can play. Basketball supersedes all and if you ask any of our members what their playing goal is the answer will always be to play international for Ireland.
How do you see the Dublin Sonics' role in the community?
In Tyrrelstown a large part of the community were born in countries were Basketball is the primary sport or in the top 3. Residents from the Mediterranean, Central and Eastern Europe, West and Southern Africa, Asia and America. What the club has achieved in the past 5 years is to demonstrate to those members of the community that they have more in common with their neighbours than just living in Tyrrelstown. We have created a focal point for all those in the community who have an interest in Basketball. People who lived across the road from each other for years and perhaps their engagement was restricted to a nod every so often now socialise with one another at club events and outside of club events. People are emotionally invested in their children's team, not only when their child play but the team as a whole. You could logically transpose that to the community as a whole.
How important is community support for Dublin Sonics?
Dublin Sonics is the most successful sports club within the community when it comes to trophies won. Our success is built on the support we receive from the community. Saturday 7PM is U16s game night. Our gym will have up to 100 people watching our U16 boys team play. To put that into perspective the average attendance at a Super league game is 89. The support we receive is often the difference between a win and a loss. If it's an important game our members will bring their neighbours. Most importantly the players always perform in response to this support. The clubs most recent success was in front of a packed gym were 90% of the supporters were from Tyrrelstown. Residents who aren't members and don't have children yet but came to cheer on their local club.
What have been the highlights for the team this year?
This year Sonics won their league at U14s, and all other teams finished in the top 3. We had U14 and U15 teams make the Dublin Cup finals with U15s winning for a record 4 years in a row. Most importantly we had 20 Sonics players make the regional & national academies and teams.
What do you feel Dublin Sonics needs to take the team to the next level?
This year Sonics are rolling out coaching support to all of the neighbouring schools to support their Basketball programmes. Ensuring the schools are our partners in growing Basketball is a key for the future development of the club. Additionally we are engaged with the schools and the other sports clubs in the community to increase the participation of girls in sport within the community. We have a number of initiatives which we hope will address this deficit.
What are your targets and ambitions for the next year?
Each Sonics team target every year is to compete with the opposition. Fortunately we always exceed this target. This year we expect at least 1 Dublin Cup Win, 1 league win and for our U16s to reach and win the All Ireland finals. This seasons U16s are one of the strongest in the country. They are a talented bunch of players with incredible team spirit. The coaching team is exceptional and they will have support second to none.
What can young people do to get involved?
Sonics welcome all those who want to get involved. Players from 6-60 can train at the times below, or if you want to help with coaching, admin or just support you can find us on www.dublinsonics.ie. https://www.facebook.com/dublinsonics or call 0860299002
Academy - Sat 1.30-2.30PM
U11s - Weds 4.30-5.30PM & Sun 10-11AM
U12s - Mon 5-6PM & Sat 2.30-3.30PM
U13s - Tues 5-6PM & Sat 3.30-4.30PM
U14s - Mon 8-9PM & Sat 4.30-5.30PM
U15s - Fri 5.30-7PM & Sun 12.30-2PM
U16s - Thur 5.30-7PM & Sat 5.30-7PM
U17s - Weds 5.30-7PM & Sat 12-1.30PM
U17s Girls - Sun 11.15AM-12.30PM
D6 Men - Weds 8-10PM & Sat 7-8PM
Go Sonics !
Got a Question?

Let us help
Icon Accounting, Columba House, Airside,
Swords, Co. Dublin, Ireland, K67 R2Y9