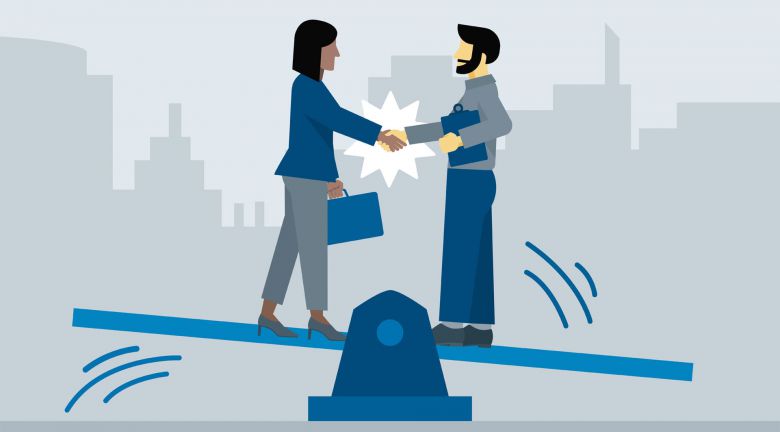 One of the most common fears for people transitioning from permanent employment to contracting is the end date for a proposed project. The market is currently showing positive signs and in a recent survey conducted by Icon Accounting, 96% of surveyed clients outlined that they intend to look for another contract when their current project finishes.
We have compiled our four top negotiation tips for your next contract offer that will ensure you get the projects that excite you most and that reward you justly!
Listen more than you speak!
This is more difficult than it sounds in a time where you are doing your upmost to impress the hiring manager. You can impress without taking over the conversation. Use the 70/30 rule as a guideline that you should be listening 70% of the time in comparison to speaking 30% of the time.
By listening instead of speaking, you will be in a position to ask more meaningful open-ended questions that will demonstrate your knowledge and expertise. To complement this, you will also gain a much clearer insight into the hiring company's perception of value and even how urgent it is.
Make it personal, but don't take it personally!
It may sound like a contradiction at first and it is easier said than done.
Granted, none of us like the thought of being unsuccessful with an application, having said that, it is imperative to retain your professionalism throughout the entire process.
When answering any questions from the hiring company, you should make your answers relevant interesting and as personal as you can. By bringing in an element of personality, you are demonstrating an ability to fit in with the company's existing culture and teams. Even though your contract is to work as an independent professional, your client will more than likely want you to engage with a wider team to deliver the schedule of work.
Statistically speaking, it is impossible to win them all and although are egos can take a hit every now and again, it is imperative that you retain belief in your value proposition, the next opportunity is just around the corner but if you are nursing an injured ego for too long, you just might miss it!
Do your homework!
This one should be a given, but you would be surprised as to how many people turn up to an interview without researching anything about the company, the interview panel or even past projects that have been carried out by the company.
As an independent professional, you are always representing your own brand and as the saying goes, knowledge is power.
By doing some research on the company and its people, you may find an opportunity to link your experience and expertise to previous projects that have been completed by the hiring client.
You may have similar interests with interviewees or hiring managers and not being able to capitalise on that should the opportunity present itself will have you kicking yourself!
Be ready to walk away!
It may not seem like the wisest negotiation tactic, but it can be the most effective.
Every business relationship requires 3 key values – trust, risk and value and the art of negotiation is no different.
Every independent professional should have a minimum acceptance rate outlined to themselves. The minimum acceptance rate should be realistic and based on expertise rather than a desired rate of pay.
For those confident in the value proposition that they provide, then nothing should distract you from the fact that the opportunity does not match the minimum acceptance rate that you have aligned your brand with.
Kenny Rogers's summarised it best, "know when to hold 'em, know when to fold 'em, and know when to walk away", but never run.
Professionalism is one of the most regarded characteristics from employers, just because this particular opportunity does not fit, does not mean the next one will not – don't remove yourself from the table by not upholding and representing your brand to the standard it deserves.
If you have any other negotiation tips that we can include that are relevant and useful to independent professionals, please feel free to get in touch at info@iconaccounting.ie, alternatively please feel free to visit our Contracting expert's tips and hints here.
Got a Question?

Let us help
Icon Accounting, Columba House, Airside,
Swords, Co. Dublin, Ireland, K67 R2Y9