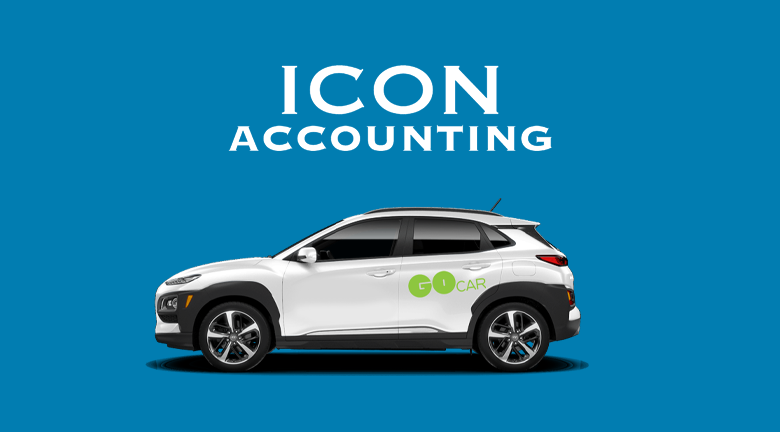 Gocar carSharing Club
For the benefit of our clients and business partners, Icon Accounting have agreed a deal with GoCar Carsharing to provide a discount scheme to them. This will assist clients in regards much needed transport when visiting Ireland for the purpose of business or personal use. It will assist our Business Partners for their business-related transport needs, providing an average saving of 46% vs equivalent taxi costs (based on full GoCar rates). You will also be able to write off the cost of the rental for tax purposes when used for business journeys
To use the 800+ vehicles GoCar have on fleet nationwide, you MUST be a member of GoCar Carsharing. There are no initial upfront fees, and this is a total pay as you go service, meaning you can sign up and have the account there in case one day you find yourself needing access to a vehicle. Business Partners can sign up a business account and add as many drivers to that as you wish
GoCar discount scheme
As mentioned, Icon Accounting has arranged a discount scheme which includes;
No signup, monthly or yearly fee ever
Choose to pay monthly (with a maximum spend limit of €150) or after each trip
All vehicles on the GoCar fleet will be reduced by 10% (standard rates can be found on the GoCar website)
Included in the hourly rates are;

Free fuel card to fill up
Free Council parking in all towns and cities that we have GoCars
Free insurance
50KM travel free of charge

Receive our GoFar rate on all vehicles, rather than just specific ones. This is an additional per KM charge after the first free 50KMs. Usually €0.50 per KM, Icon Accounting clients and Business Partners will pay just €0.15 per KM
What You Need to do To Join
To ensure you receive the discounts and benefits available when signing up to GoCar, please follow the steps below:
Contact our dedicated account manager, Daniel Ralston on 0860414991 or email daniel.ralston@gocar.ie, including;

Discount reference 'IconAccount-GoCar2020'
Your name and phone number
Your business name (if a business account)
Your personal / business address (whichever is applicable)
A copy of your licence (both front and back)
Your preferred payment method (per trip or monthly – business accounts will automatically be set up as monthly payment)
If you are setting up a business account and wish to add further drivers please send their name, email address and copy of licences

Once received, Daniel will set up an account for you
Once the account is set up, you will receive a verification email to the email address you contacted him from. Once verified, you will receive your personal login details
At this point, Daniel will call you (from mobile no. 0860414991) to take your card details for payment (please DO NOT send these details via email)
Your account will now be active and available to use whenever you need
Due to additional steps in the signup process to ensure discounts, signup could take up to 24hrs so if you think you will ever use the service it would be best to sign up now rather than wait until you need it as you only pay for what you use
Got a Question?

Let us help
Icon Accounting, Columba House, Airside,
Swords, Co. Dublin, Ireland, K67 R2Y9